We must all ways remember our fallen and missing comrades as well as those who are being held by any captors.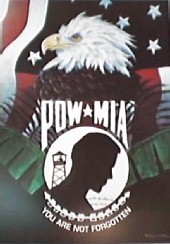 JAMES FRANCIS TRITT
Missing-In-Action
James Francis Tritt was a member of the United States Navy serving
during the Vietnam war in the area of the Gulf of Tonkin when he was reported to have fallen overboard.
MORE INFORMATION:
Home of residence: Monaca, PA
Date of Birth: July 13, 1942
The loss was reported on July 7, 1967
(6 days short of birthday)
The loss was changed to Killed in Action, Body not recovered in 1973.
This information was obtained through the POW network from Governments sources.